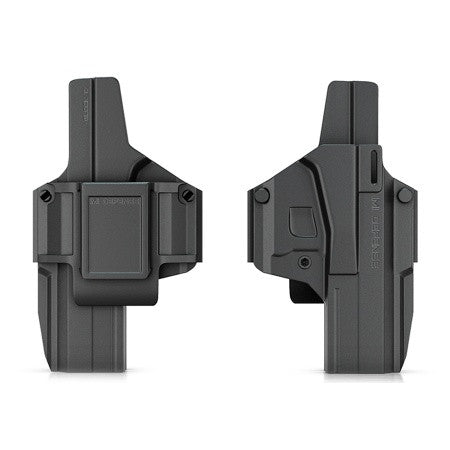 MORF X3 Polymer holster Glock
Regular price $38.00 Sale
Morf X3 is a new revolutionary holster that can quickly be configured for
either left or right hand IWB, OWB, or even a adjustable paddle holster in
seconds.  The holster comes with a IWB belt clip, OWB belt loop and a
paddle holster attachment that with the removal of four pins allows the
operator to adapt their holster to the current mission.  The holster is
made of high grade light weight polymer that can handle the abuse of the most
aggressive operators.  The Morf X3 is the perfect fit for the operators that require versatility and performance.  No other holster on the market is capable of transforming (Morphing) itself into this many configurations.   One holster - either hand - multiple missions. 
*The holster was designed with a unique safety future that shows if the pistol has a round inside the chamber (an opening / window on the top right side)
Available in Black, O.D. Green and Desert Tan color.