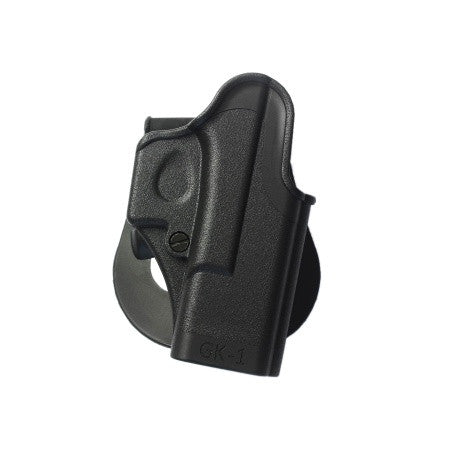 Secure and Fast IMI One Piece Polymer Holster. Glock Right Handed Gen 4 Compatible
Regular price $37.00 Sale
One Piece Holster for Glock 17/19/22/23/25/26/27/28/31/32 Pistols Gen 4 Compatible
FEATURES AND BENEFITS:
• High tech space age polymers using a single injection molding. 
• Unique one piece design with no rivets
• Holds closer to the body than any other paddle Holster on the market
• No joints also means no weak areas to break, to loosen, and no slapping  effect while running or being active
• Lifetime warranty.
• 15 degree forward cant (FBI style) for most aggresive tactical presentation.
• Tension adjustment screw
• Protective sight channel
• Designed for military & police personnel. Great for civilians & off duty  officers.
• Available in Black, Desert Tan & OD Green.